Ever since I was a little girl, I loved the written word. As a 5-year-old, my collection of "Golden Books" was the envy of the neighborhood. By 10, the bookshelf was bulging with tales of adventure, fantasy worlds and far off places. Carolyn Keen, Franklin W. Dixon, Enid Blyton, and C.S. Lewis rocked my world. As time wore on, they were replaced with Raymond E. Feist, Janny Wurts, James A Michener, and Elizabeth George. Although, I do like to revisit Narnia at least once every five years.
I loved to write as well as read. My first taste of fame was a poetry competition in third grade. First prize was a free lunch at the tuck shop! Now that was hitting the big time! A pie and crisps never tasted so good.
Adulthood arrived, and aspirations of becoming a famous author made way for the day to day business of being a "grown-up." Instead of stories, I wrote policies, procedures, work instructions, risk management plans, and training resources. Don't get me wrong. I made an excellent living, and I'm pretty dang good at it.  But it's not the same thing as topping the New York Time's best seller list, is it? Thankfully all that experience comes in very handy when writing for others.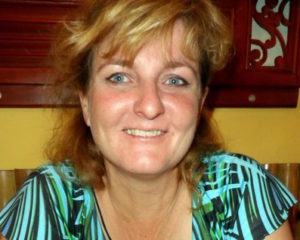 My husband Tim is a Graphic Designer, and we've both embraced a "location independent" lifestyle. We're both qualified English (ESL) teachers and divide our time between exploring new destinations and teaching in Ho Chi Minh City. Trust me. There's no better way to get a thorough grasp of the English language than to teach it!
A few years back I wrote a book to help out other long-term travelers. Then…Hooray!… Fate intervened, and I sold it to a publisher who has developed it as a premium product. (Want to get your hands on it, then head over to the promo page.)
By early 2018, my freelance writing client base had grown so much I didn't have time to teach. Tim now helps me out, and we divide our time between clients and exploring the world.
We freelance for a diverse set of clients, across multiple forums and base our success on four fundamental principles: Quality, Experience, Value, and Client Satisfaction.  If you need someone reliable to help out with your writing and editing needs, then get in touch. Want to know more about the services I offer? You can learn more HERE.
So that's all about me and my crazy life. What are you up to? Do you need writing assistance or do you want to write yourself? Can I help you with anything or answer a question? Or, do you know something you think I should too? Let me know.