I'm itching to edit some of these, but better if you read my client's own words. These are but a few of the 5-star reviews I've received from my clients over the past few years.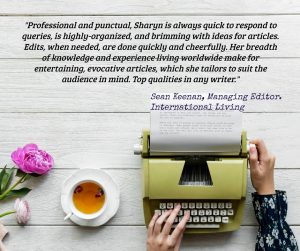 *****
Writer for a new Technology Webiste: It was a pleasure working with Sharyn. Very quick and great quality. Srikanth, Australia, SHAVIK, 2019
*****
Blog Posts: "Sharyn is an excellent writer with great communication skills. Easy to work with and completes task well ahead of time. Great working with you Sharyn!" – Lise, Australia, AJHC Consulting.
*****
Website Copywriting and SEO Optimization:"Sharyn is a great freelancer with High-skilled for copywriting and really professional by always delivering work in a timely manner. our project needed flexibility and Sharyn always adjusted her work according to our deadlines, that's was really appreciable and efficient for our project. I highly recommend Sharyn if you want to work with someone professional and dedicated to support you to achieve your goals." Non-Disclosure Statement signed. France, 2017
*****
Writer/ Proof Reader for Travel Blogs and Itineraries: "Sharyn went about her work in a diligent and professional manner. She was an absolute pleasure to work with and met our deadlines or beat them everytime. I look forward to working with her again." – Kimberley, Cambodia, Green Cultural Travel, 2017
*****
Award Submission: "Sharyn was absolutely Brilliant. I had given her very short notice to assist me in completing a business submission. She worked around the clock to interview me to gain an understanding of our business. She then worked late and early to provide draft formats. I could not have started or completed this project without her assistance? I would definitely work with Sharyn again. Top quality on every level." Monique, Australia, Real Estate. 2018
*****
ISO9001 Related Articles: "Sharyn not only writes very well, but she also plans out the topic and content of the articles based on detailed research and competitor research with an eye on SEO issues. We received a series of articles that are unique and reflect our company's strengths. Sharyn also developed a content distribution strategy and provided valuable SEO insights." Carl, USA, Quality Assurance Industry, Nov 2018
*****
Articles, White Papers, Blog Writing: "Great professional! Very well organized and with an analytical approach." Fernando, USA, Quality Assurance Industry.
*****
Copywriting, Website Content and Content Marketing About Team Brainstorming Activities: Very happy with the work Sharyn delivered us on this project. She needed minimum guidance, completed a large amount of independent research and copywriting and worked with us to refine our priorities based on what she learned. I would happily recommend her. Brad, Australia, GroupMap, 2017
*****
Blog Content Production: "What a great experience to work with Sharyn. She has been able to adapt to our "quality" industry vocabulary thanks to her technical background, and to our SEO requirements. We have made great content which has proven good result in term of lead acquisition. Working with Sharyn is great, easy. She is very professional, open and she cares about your entire service satisfaction." Claire, France, Quality Auditing, 2018
*****
A Better About Us Page: "It was great working with Sharyn. She understood the project and delivered in a very timely manner. Would highly recommend and I'm sure will use again. Craig, Australia, Bar the Stool, 2018
*****
UK Spelling: Sharyn is absolutely wonderful to work with. She has been a huge help converting my reading passages to the UK Spelling. She has great communication, fast turn around, and very detailed in her work. I highly recommend her for your project! Lauren, USA, Educational Materials, 2018
*****
Create Product Manual: Sharyn is awesome! she communicated well. She very quickly and effectively completed the task at hand. I look forward to working with her in the future. 
*****
Website Copywriting: This project has been very long, with some changes on the way that required to revise all content. Sharyn has shown understanding, she has been fully available to rework and finalise the content based on the new concept. Her expertise in quality has been very helpful to clearly explain what we wanted to say, and in a professional manner. Claire, France, Quality Assurance Industry, 2016-17
*****
Competitors and Leader Actors- Research for New Blog Articles: Great Professional!.. 100% recommended. Fernando, USA, Quality Assurance Industry, 2017
*****
Mens Hair Loss Book: Everything. Sharyn was great, second guessed me and over delivered at every stage. I couldn't recommend her more highly. Unless this effects her ability/ time to keep working we me 😉 Keith, Australia, Hair Loss Industry, 2017